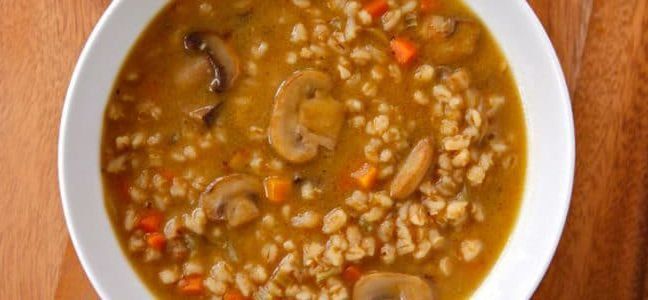 Mushroom Barley Soup
(6 to 8 servings)
One of my favorite cold weather soups. It's super satisfying, super delicious, high in fiber and antioxidants, but low in calories:

1 TBSP olive oil
1 medium yellow onion, chopped
½ tsp salt
8 ounces sliced button or crimini mushrooms
4 cloves of garlic, minced
1 – 2 ribs celery, thinly sliced
¾ cup pearled barley
6 cups chicken or vegetable broth
Freshly ground black pepper

3 TBSP chopped fresh dill
3 TBSP chopped fresh cilantro
3 TBSP chopped fresh basil
2 TBSP chopped fresh thyme

In 4 quart pot over medium heat sautee the onions with the salt in the olive oil until golden. Add in the mushrooms and cook until softened and some of the moisture has been released (about 5 minutes). Mix in the garlic and sautee for a minute or 2. Add in all the other ingredients (except for the fresh herbs) and bring to a boil. Once boiling, add in the herbs, lower the heat to a simmer, cover and cook until the barley is tender, about 10 minutes. For best results, let sit off the heat for about 10 minutes before serving.