James Brinker, our amazing nurse at our Crystal clinic shares three of his favorite non-traditional Thanksgiving dishes.
"At our house growing up, our dad disliked the traditional turkey meal so much that we were forced to make two dishes on Thanksgiving Day! Coming from a family of 14, there were also a few followers to Dad's dislikes!   
Mississippi Pot Roast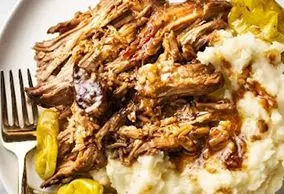 Not a traditional pot roast, but a Mississippi Pot Roast!  A wonderful alternative for all who wanted something different. We made this on Thanksgiving and at least once a month because it was so delicious! 

Ingredients
4-5 lbs Chuck Roast
1 packet of Hidden Valley Ranch dressing mix (or equivalent)
1 packet of onion soup mix
2 cups of sliced banana peppers
1 stick of butter
1 Tbs of garlic powder
1 8 oz block of Cream Cheese
Directions
Sear the roast on medium high heat in a cast iron skillet and place in a slow cooker on low heat. 
Sprinkle ranch, soup mix and garlic powder over the top of the roast.  
Take the stick of butter and cut into pats and place all over the top with the banana peppers as well.  
Leave the cream cheese block whole and place on top and allow it to melt on its own throughout the day.  
Cook on low heat 6-8 hours and enjoy the aroma throughout the day.  
It's ready when it starts to fall apart.  
This is so good and fits in nicely as a substitute on a Thanksgiving plate! 
Turkey Pot Pie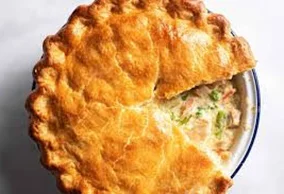 What is Thanksgiving weekend without leftover Turkey? Another family favorite.  Of course a family as large as ours (14), requires at least 4 pies at a time.  These freeze very well and can be thrown into the oven for those nights when you don't feel like cooking! 

Ingredients
2 homemade or store-bought pie crust (1 in a deep dish and the other for over the top of the pie.)
3 cups of leftover turkey cut into small chunks
¼ cup of butter
½ cup of flour
½ cup of onions
½ tsp salt
½ tsp of nutmeg
1/3 tsp pepper
1 ½ c chicken broth
½ cup of milk
2 cups of mix vegetables
¼ c turkey gravy (optional)
Directions
Heat over at 425 degrees. 
Place 1 crust on the bottom of the pie plate. 
Melt butter and add onions cook until tender in a medium skillet. 
Stir in flour, salt, nutmeg, pepper, stir until bubbly. 
Remove from heat.  
Add broth, milk and bring to a boil and add gravy and vegetables.   
Remove from heat.   
Pour into pie plate already with a bottom crust.   
Put other crust over filling and flute the edges with a fork.  
Don't forget to leave a few slices in the top crust to vent for the filling.  
Bake for 35-40 minutes until golden brown. 
Easy Blueberry Dessert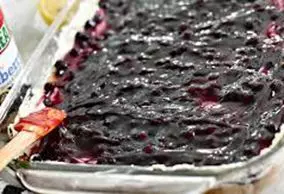 Ingredients
12 graham crackers
½ cup of sugar
½ cup of butter
2 eggs
½ tsp Vanilla
8 oz of cream
One can of blueberry pie filing
Directions
Mix together the following:12 graham crackers (crush), ½ cup of sugar, ½ cup of butter.  
Once mixed pat down in a cake pan (9 x 13).  
Mix in a bowl with a hand mixer the following.  2 eggs, ½ tsp Vanilla, and 8 oz of cream cheese.  
Layer this mixture on top of your patted crust
Bake for 15 minutes at 375 until set.   
Heat one can of Blueberry pie filling - do not boil.   
Pour blueberry filling as your next layer in the pan.  
Cool and refrigerate until chilled (overnight).   
Just before eating top with cool whip and serve!  
This is definitely part of our family's permanent collection. If you snooze you lose on this one. Every crumb is gone before you know it, at our house!  
---