A Message From Dr. Sagedahl
I wish everyone a healthy 2023! I wanted to let you know that I am hoping for a unique and satisfying 2023 as I plan to take a six month sabbatical from Northwest Family starting May 27, 2023. My planned return to work date will be November 28, 2023. 
The purpose of my time away is that I plan to hike the entire Pacific Crest Trail (PCT) with my son, Penn. He is graduating from St. Olaf College a few days before our planned start day of the trek (May 31). The trail starts on the California-Mexico border, travels though California, Oregon and Washington, and finishes on the Washington-Canada border. While it starts in the desert, most of the trail is through mountainous terrain. The route passes through 25 national forests and 7 national parks, so the scenery should be awesome. The trail is 2650+ miles, and we plan to do it all by foot. We will shelter in our tent and carry everything we need in our backpacks. The average duration of a completed thru-hike of the PCT is about five months, and the success rate is relatively low, so we know this will be a challenge. While we cannot control all of the setbacks that will likely occur, we have the goal of completing it. This is a once in a lifetime adventure and we look forward to it. 
During my time away, you can expect my colleagues at the Plymouth office to continue to manage any of your medical issues and medication refills. Most of you have likely had experiences with some of them, but if you have not, you will find them to be friendly, helpful and knowledgeable. I even suspect that many of you will find them to be such a good match for you that you will want to continue with them for the long term. There are no hurt feelings if that is the case as they are outstanding providers. Otherwise, I will be happy to resume seeing you again upon my return and hopefully I'll have some wonderful stories to share if you are interested. 
While I am gone, if you have interest, you can visit this map to follow our progress as I will carry a satellite communicator for emergencies that will also continually update our progress on the trail.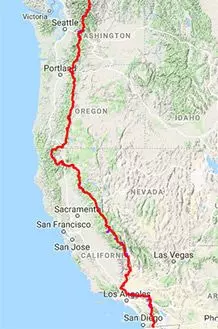 ---