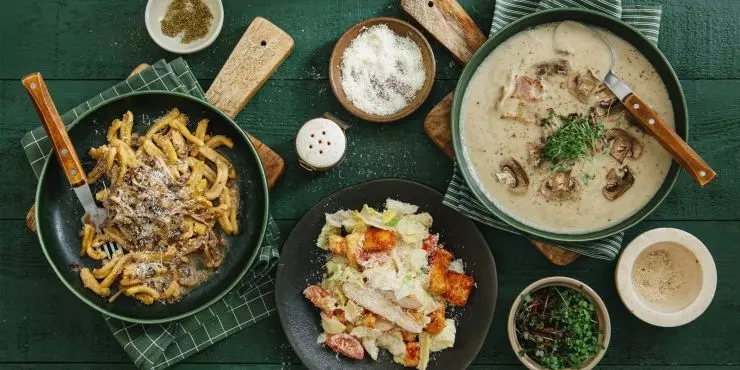 As we continue to trudge through our cold Minnesota winter, you may notice this leaves you craving a heavy, hearty meal. Also known as comfort food. Sometimes, comfort food isn't very healthy. The good news is there are healthy alternatives. You can make simple food switches that turn those classic comfort foods into a nutrient-dense meal.
Heavy Whipping Cream Substitutions
Many of those cream-based recipes, like rich soups, call for heavy whipping cream. If appropriate, you can decrease the recipe's calorie and fat content by making a simple switch. Some options include:
Half and half
Whole milk
Coconut cream
Evaporated milk (for baked goods)
Using equal parts Greek yogurt and milk
Adding Veggies
With almost any recipe, you can add loads of veggies for a healthier alternative. Veggies are packed with tons of nutrients. Adding them to classic dishes like tator tot hotdish will create a more filling, nutritious version of traditional recipes.
Tip: Spinach can be added to almost any recipe with little detection – it cooks down significantly. By adding it to classic recipes, you will be sneaking in leafy greens without your family noticing.
Lean Meat
With most recipes that call for ground beef, you can opt for a leaner option using ground turkey or chicken. This switch will allow you to keep the high protein content with less saturated fat.
Greek Yogurt for Sour Cream
Plain Greek yogurt is almost identical to sour cream in taste and consistency. Greek yogurt is a healthier option as it is packed with protein, probiotics and low in calories. This swap can easily be made in recipes that call for sour cream by using the same ratio of Greek yogurt.
Zoodles
Pasta dishes can now be made sans pasta. Zucchini noodles are a great option to cut calories and carbohydrates and also pack a punch of nutrients. You can make any dish with 100% zoodles or a 50/50 ratio of regular pasta and veggie noodles.
Zucchini noodles can be found in the frozen food aisle, or you can make your own by investing in a veggie spiralizer which can be found almost anywhere that sells household goods. 
Riced Cauliflower
A great swap for recipes that call for rice. Riced cauliflower can be found in the frozen food aisles. This makes it a very simple switch. Again, as with the zoodles, you can swap the rice 100% or choose a 50/50 ratio.
Weight Loss and Nutritional Counseling
If you find yourself struggling to maintain a healthy weight and eat well, you may want to consider weight loss and nutritional counseling. Our trained physicians are here to support you. They can help create a plan to live your best life. Book an appointment today.
---