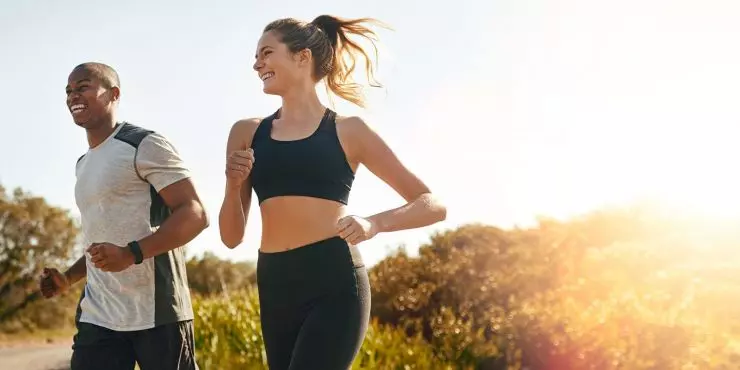 Regular physical activity and exercise is important for bodies to stay healthy.  We have all heard that it is essential to move our bodies regularly, but how many of us are getting the recommended amount of physical activity? According to the CDC, only 53% of us are getting enough aerobic exercise and only 23% of the population are getting enough aerobic and muscle-strengthening activity. This means most of us have some work to do – by moving more, we make physical activity a priority in our daily lives.
Recommendations for Regular Physical Activity
The American Heart Association provides the following recommendations for adults:
Get at least 150 minutes per week of moderate-intensity aerobic activity or 75 minutes per week of vigorous aerobic activity, or a combination of both, preferably spread throughout the week.
Add moderate- to high-intensity muscle-strengthening activity (such as resistance or weights) on at least 2 days per week.
Spend less time sitting.  Even light-intensity activity can offset some of the risks of being sedentary.  Aim for 7,500-10,000 steps per day.
Gain even more benefits by being active at least 300 minutes (5 hours) per week.
Increase amount and intensity gradually over time.
Recommendations for children provided by The American Heart Association:
Children 3-5 years old should be physically active and have plenty of opportunities to move throughout the day.
Kids 6-17 years old should get at least 60 minutes per day of moderate- to vigorous-intensity physical activity, mostly aerobic.
Include vigorous-intensity activity on at least 3 days per week.
Include muscle- and bone-strengthening (weight-bearing) activities, including strength training, on at least 3 days per week (which is safe for children as young 7 or 8 years old with proper adult supervision).
Increase amount and intensity gradually over time.
The Importance of Moving Your Body
The health benefits of moving your body are endless. Here are just a few benefits of regular physical activity provided by the Mayo Clinic:
Helps control weight
May prevent and control certain diseases like:

High blood pressure
Type 2 diabetes
Heart disease
Stroke
High cholesterol
Depression
Anxiety
Many types of cancer

Improves mood
Boosts confidence
Increased energy
Better sleep
Getting Enough Physical Activity
You don't have to live at the gym to live a healthy life. You can start making changes to your everyday life to help you move more. Here are some tips to get more physically activity:
Make daily movement part of your regular routine – Set aside 30 minutes per day dedicated to physical activity. Think of this time as a mandatory meeting that cannot be missed or rescheduled.
Sit less – aim to stand and walk more throughout your day especially if you have a job that has you spending much of your time sitting.
Track your steps – walking is a low impact activity that has countless health benefits, and it can be done almost anywhere.  Aim for 7,500-10,000 steps per day.
Make exercise fun – find an activity that gets you moving and that you enjoy. Dancing, hiking, swimming, biking, and skating are just a few ideas.  Turning on some music to pep you up can also help you want to move your body.
Get the family involved – make it your goal to get your entire family more active while spending quality time together. Think about making a daily walk or bike ride part of your routine.
Common tasks around the house count – house cleaning, yard work, washing windows, gardening, shoveling snow are all physical activities that can raise your heart rate and give you a mini workout.
Just Get Started
Keep it simple, and whatever you do just get started. Aim to make small changes that are doable and long-lasting – meaning, these are things that you will be able to keep up for a lifetime. Don't get overwhelmed by the recommendations or type of activities you should be doing; just start somewhere. Your doctor is a great resource to better help you understand the importance of physical activity and make recommendations on how you can start living a more movement rich life safely.
Resources:
https://www.heart.org/en/healthy-living/fitness/fitness-basics/aha-recs-for-physical-activity-in-adults
https://www.mayoclinic.org/healthy-lifestyle/fitness/in-depth/exercise/art-20048389
---