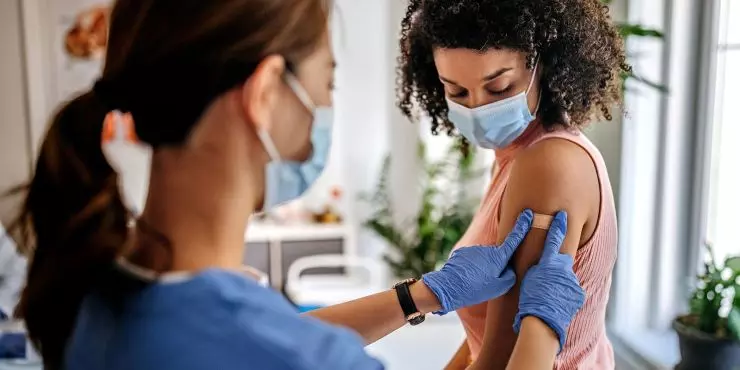 As the weather gets colder and we spend more time indoors, the spread of contagious illnesses such as influenza and COVID-19 increases. The best way to protect yourself against these potentially serious illnesses is to prevent acquiring them in the first place. Vaccinations for both influenza and COVID - 19 decrease the chances of becoming infected if exposed to these viruses. Most importantly, the vaccines help prevent severe illness - significantly reducing the chances of requiring hospitalization or dying from these infections. Also, being vaccinated means you are less likely to pass these infections on to those around you. Do your best to get vaccinated soon. It is essential to protect yourself and others before holiday gatherings and travel.    
Here is a little more about the vaccines available:
Influenza
There are a couple of formulations - standard dosing and high dose.  
High dose is preferred for those over 65 years old and those with chronic medical conditions that place them at higher risk of more serious infection.   
Flu season typically runs from mid Fall to mid-Spring (about March or April).  
Babies should be vaccinated for influenza during the flu season once they are six months old.  
Babies and children need a booster (2nd dose) the first season they are vaccinated
Highest risk populations include children under age 2, pregnant women, adults 65 and older, and those with chronic medical conditions. Vaccination is strongly recommended.  
Everyone is encouraged to get a flu shot each Fall!
COVID-19
COVID vaccine recommendations have evolved through the course of the pandemic 
The bivalent booster (available from Moderna or Pfizer) is the most recent vaccine, adapted to give more protections against the Omicron variants (BA.4 and BA.5) that have been causing most infections this fall.  
The bivalent vaccine is available and recommended for everyone age five and older, AFTER completing their primary vaccine series. (At age 5, must receive Pfizer bivalent booster; Age 6 and older approved for either Pfizer or Moderna bivalent booster.)
There are a lot of age-specific recommendations, and it can be challenging to keep it all straight!
For current information on recommended vaccinations, refer to the CDC.
Here is also some information from the Minnesota Department of Health explaining some of the terminologies:
* Primary vaccine series: The primary vaccine series refers to the initial number of doses of a particular vaccine a person needs. It does not include booster shots. 
* Booster shots: A booster shot is given when protection from the original vaccination begins to decrease. The additional dose(s) of vaccine can help get protection back up to a higher level.
* Updated or bivalent booster: A booster shot that protects against the original virus that causes COVID-19 and gives more protection against the Omicron variants (BA.4 and BA.5) currently causing most of the cases of COVID-19.
* Up to date: You are up to date with your COVID-19 vaccines when you have received all doses in the primary series and the most recent booster dose recommended for you when eligible.
Act now by scheduling a vaccine (nurse) appointment at your clinic,  or seek vaccinations where they are accessible in your community. And, if you are not feeling well, keep your germs to yourself! Do what you can to help limit the spread of illness this winter.  
---