Carleigh Duva's Story With HELLP Syndrome and Pre-eclampsia
Hi, my name is Carleigh, and this is my story about HELLP Syndrome and Pre-eclampsia.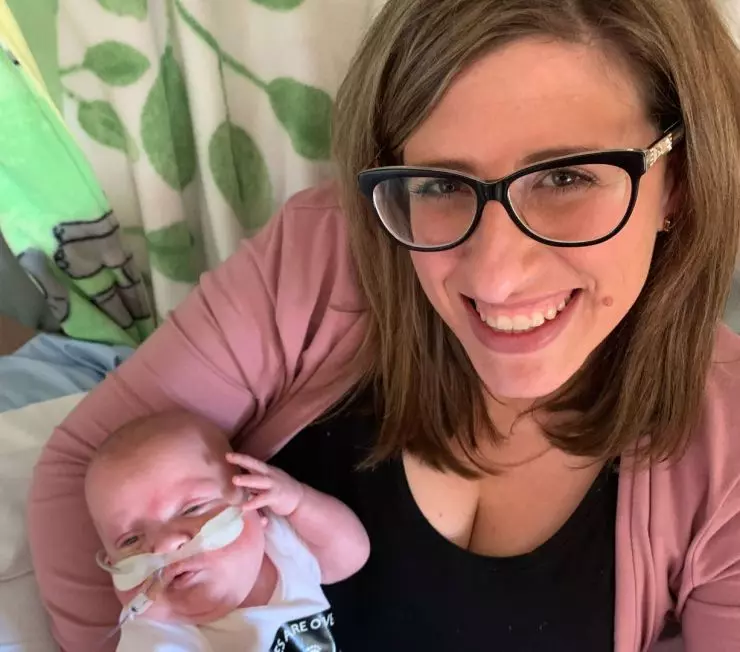 In January 2022, at 33 years old, we found out we were pregnant with our first child. I was just 5 weeks along, according to a dating ultrasound. The first trimester was as expected with tiredness and morning sickness (which happened in the evenings) and all-day nausea. I also experienced some food aversion, particularly meat, but that got better around 15-16 weeks. I pretty much lived off bagels, cereal, fruit, granola bars and yogurt parfaits. I lost 12 pounds during my first trimester. 
At the end of February we decided to do genetics testing and found out we were having a baby boy! We then had our 20-week anatomy scan and was told I had placenta previa, which means the placenta was growing over my cervix. The doctors explained the previa would likely resolve as the baby grew, so I would still be able to deliver naturally. We made an appointment to come back for an ultrasound once I reached third trimester. I was told if the previa remained, the plan would be a c-section around 37-39 weeks.  
May arrived, and I was feeling great. Morning sickness had subsided, I had more energy, and I was able to enjoy almost all my favorite foods again. I was starting to show a little and had gained the 12 pounds back, plus an additional 5 pounds. In the middle of May, I started to feel a slight pain in my stomach which felt like constipation. This was normal for me pre-pregnancy. After a discussion with Dr. Purifoy, I was able to take Colace to help with my constipation. 
On May 24th, I had my 24-week appointment and passed my glucose testing, which screens for gestational diabetes. I was feeling good, and my blood pressure was in a normal range. My parents were in town visiting for a week from Canada, so my Mom came to my 24-week appointment with me. She joked about how I couldn't take any pain, as I complained of mild pains the week earlier which I believed to be due to constipation.
Fast forward 3 days, I started to feel sharp pains in my stomach, higher up at the bra line. I had taken some Tylenol and was still feeling "constipated". The following day it got worse, but since it was my first pregnancy I didn't know what to expect. I was told by family members and friends that your body changes so much and expands, so I figured that was all part of it. Saturday morning we were out shopping, and the pain started to get worse. I actually bought a new bra because the one I was wearing was super uncomfortable and felt tight right where I was feeling the sharp pains. By Saturday afternoon, the pain moved to my back. I sat with a heating pad and was then told by my family to take a walk to get things moving (thinking I was still constipated). The pain didn't go away, I took some more Tylenol and headed to bed early. I did not sleep at all; the pain was unbearable! I messaged Dr. Purifoy early Sunday morning and decided to go to urgent care. The physician advised me to go to the hospital to be checked. My husband and I headed to Maple Grove Hospital not knowing what the day would bring. We were assuming we would spend the day waiting in the Emergency Room for what I thought was a simple bought of constipation. I was immediately sent up to triage in the labor and delivery part of the hospital. I didn't understand why because I was only 25 weeks and 1 day pregnant and couldn't be having a baby this early.
Once we made it up to L&D, they checked me in, hooked me up to monitors to check on our son. He was moving and had a normal heartbeat. I had to do a urine sample. They drew blood, sent me for an ultrasound, and continuously took my blood pressure every 15 minutes. At this time, I still had no idea what was going on. When I went for the ultrasound they checked on our baby and didn't ultrasound the area where I was feeling pain, so I questioned the ultrasound technician. She explained her order was just to check on our baby. 
Once we were back in L&D, my nurse came in and informed us that our baby was doing great, but the doctor will be in to talk to us soon. She mentioned that I would have to stay in the hospital until the baby arrives. I immediately started crying and said "I have to stay here for 3 months"? She said the doctor would be able to tell me more. Shortly after, Dr. Stanhope came in to talk to us and told us he would be taking over my care. He explained that my liver was failing and asked if we had ever heard of HELLP syndrome / pre-eclampsia. He started to explain what was happening to my body, and the only way for me to recover was to deliver our baby boy. He explained my liver enzymes were elevated, and my platelets were extremely low at just 75 (when they should be 150 or higher). They later dropped to 69!
Dr. Stanhope told me they were planning an urgent delivery. They would give me fentanyl to help with the pain and plan for an 8pm emergency C-Section. He explained that if the fentanyl did not help with the pain our baby boy would have to be delivered earlier.  At this time, they also started a magnesium drip to avoid a seizure as my blood pressure was extremely high. I had pre-eclampsia that had progressed to HELLP syndrome…one of the most feared complications of pregnancy and one many mothers died from years ago before there was good treatment.
While I awaited my c-section delivery, Dr. Swenson, the Neonatologist, came in to discuss what this all meant for our baby boy. My husband and I had no idea what to expect. Our first question was, "What are his chances of survival?" He explained 75-80%, which was much greater than we were anticipating for a baby being born at 25 weeks and 1 day. He explained that right after our son was born, he would have to be taken immediately to the NICU, would be intubated, and stay in the NICU until his due date. He then explained they would give me a steroid shot for our sons' lungs and mentioned it would be ideal if we could get 2 shots in, but that decision was up to Dr. Stanhope. Getting the 2nd shot of steroids in meant waiting at 24 more hours before delivering my son. Dr. Swenson later confirmed our baby would be delivered today as I was extremely sick. Every doctor and nurse that came into our room continuously expressed how glad they were we came in. My platelets were dropping, and Dr. Stanhope explained I would need a platelet transfer and possibly a blood transfusion. While my immediate response was "I don't know my blood type," he reassured me by telling me they already know my blood type from the blood work taken earlier. 

After these two discussions, we were both numb and in shock. We called our parents. I could only have two visitors because of Covid protocols, so only my mom came to my hospital room. The rest of my family waited in the waiting room. Dr. Stanhope continued to ask if we had any questions. He explained that my husband would not be able to come into the OR and that I would be completely put under general anesthesia. There would be the OB team, the Neonatal Team and 2 anesthesiologists in the OR for my c-section. The entire day was a whirlwind. We were terrified and prayed our son would survive. The fentanyl helped with the pain so we were able to wait until 8pm for my c-section. 
I was taken to the OR after 8pm as they were waiting for the platelets. My nurse offered to take pictures of our son's delivery with my phone as I would be asleep and my husband was not able to be in the OR. She took so many photos, and we are so grateful that she offered to do so. Laying on that table in the OR prior to being put under it really hit me, I was terrified. I thought to myself, "This was not the plan." "How can we be having our baby this early?" I truly couldn't wrap my head around it.
At 8:39pm our son was born, weighing 1 pound 6 ounces and 12 inches long. We were told he came out trying to breathe on his own! He was then intubated and taken to the NICU. My husband was able to see in the NICU shortly after he was born. He remembers standing there watching all the doctors and nurses taking care of our son. I woke up from surgery in a lot of pain. My nurse was there and showed me pictures of our son. She told me he was in the NICU, and my husband was with him. I never got to see my son that night.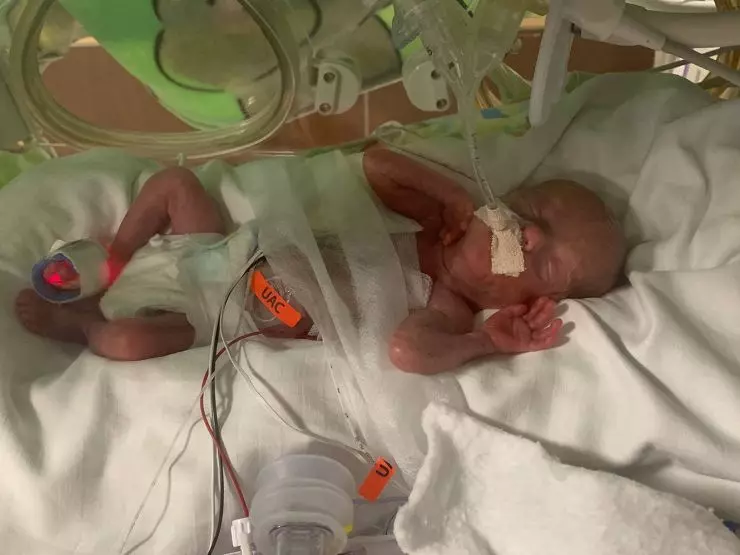 While they worked to keep my son alive, they continued my magnesium drip for 24 more hours, which made me very dizzy and nauseous. The following day I attempted to get out of bed but was in too much pain and very light headed. The nurses ended up wheeling me in my hospital bed to the NICU so I could finally meet our baby boy. I remember seeing how tiny he was and crying. We sat there just staring at him in his isolette connected to all these wires and monitors. Eventually I was taken back to my room to pump and rest. My husband continued to go visit him in the NICU.  
The next morning (2 days after my c-section) I woke up at 6am and was extremely sick all day, throwing up for 12 hours straight. I was told I had an ileus. It was awful. Thankfully, it finally subsided at 6pm. Around 8pm that night, I was finally able to get out of bed with much help from the nurses and wheeled down to the NICU to see our baby. My husband gave our son "Hand Hugs" which was gently placing your hand on him while he was in his isolette. We were instructed not to rub him as his skin was so fragile.The NICU was a lot to take in.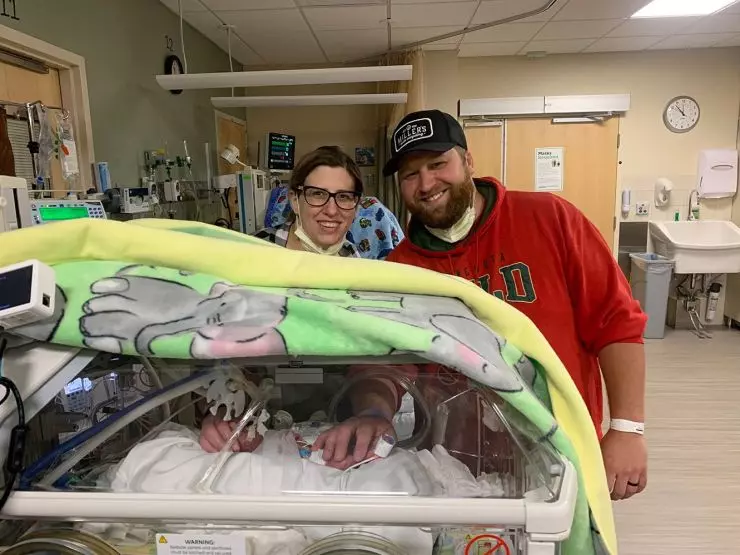 Four days after my c-section I was discharged from the hospital. Having a baby and leaving the hospital without a baby in my arms was heartbreaking. For weeks I cried watching other people leave the hospital with their full-grown babies day after day. Eventually, I was able to accept that this was the best place for him and that our day would come to walk proudly out of the hospital with our son!
There were so many unknowns in those first few hours, days and weeks. Our baby would have to wait a week before he had his first head ultrasound to see if he had any brain bleeds. He would get another ultrasound of his heart then, too. We were so happy to find that he had no brain bleeds, which was amazing for a baby born at his gestation.  
At 6 days old he received his first blood transfusion, and at 8 days they were finally able to put a PICC line in for IV/nutrition. My husband went back to work when our son was 8 days old. Since the Hospital had Covid protocols, my mom was only able to drop me off in front of the hospital, and I had to walk all the way up to the second floor NICU by myself to visit with my son. I can assure you there were a lot of tears every day, but the NICU doctors and nurses were wonderful. Our nurse would sit with me, comfort me and explain medical terminology (over and over again). When our son was 9 days old, I FINALLY got to hold him! In order to do so, we would need our nurse and a respiratory therapist to help transfer him from his isolette to my chest. They explained that we needed to hold him for a minimum of 1 hour as long as he was doing well.
Having a micro preemie comes with a lot of new experiences and more information/medical terminology than you ever thought possible. We couldn't move him from me to my husband, not even with help. On the 10th day, my husband was able to hold our son! After two weeks our son was ex-intubated and put on CPAP (an external breathing machine). We were so excited by his progress.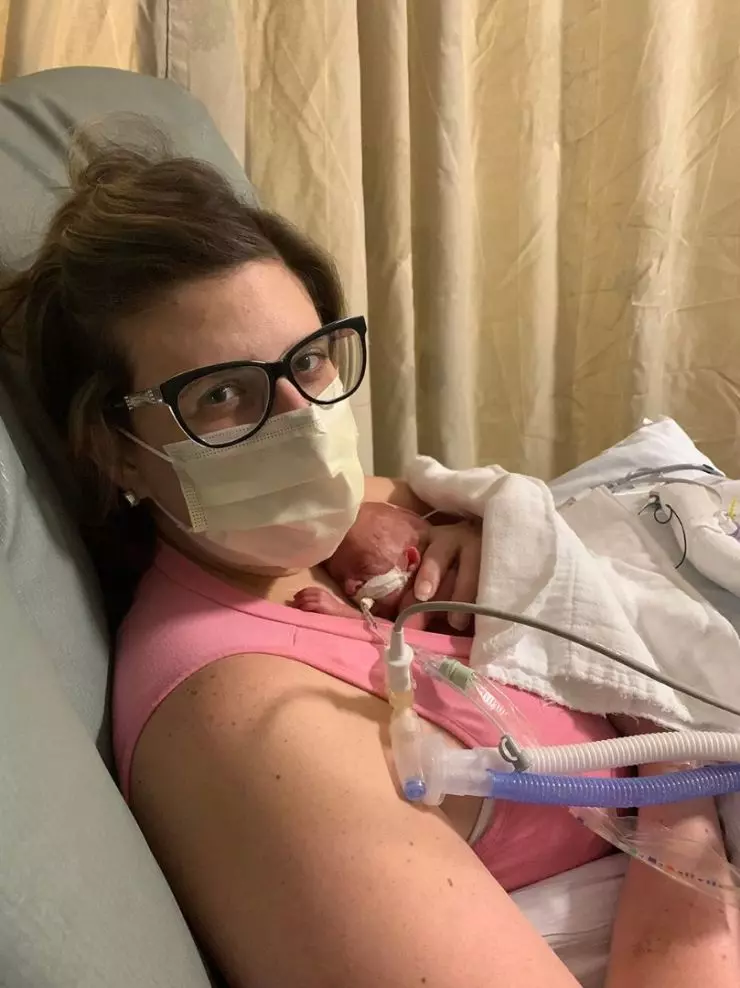 Unfortunately, ten days later, he had to be re-intubated. His lungs were still growing and developing, but the CPAP was adding extra air into his stomach causing his breaths to be short and fast. He also received his 4th blood transfusion that day, x-rays and an echo to make sure everything was still ok. It was by far one of the scariest and hardest days of our NICU journey. During rounds, the doctor called me to tell me all this would be happening. I immediately rushed to the hospital. I sat there watching and crying while the doctors and nurses cared for our son. After this day, our first nurse signed up to be our son's Primary Nurse, which meant she would be our son's nurse each time she worked. It meant so much to us to have this consistency in our son's care. Having her as his primary was one of the best feelings. She cared so much for our son during his NICU stay and would celebrate his daily milestones with us. We can't say enough good things about her. She has become one of our friends, and we still visit her! Our NICU journey had ups and downs, but for the most part our son kept moving forward.
After 6 weeks, my parents were finally allowed to meet our son, and after 7 weeks my in-laws got to meet their grandson. By the time they met him he weighed 2 pounds 13.5 ounces; he was still so tiny but had come a long way since birth. Eventually we were able to have family and friends visit him in the NICU, but there could only be 2 people at his bedside, and one had to be my husband or myself.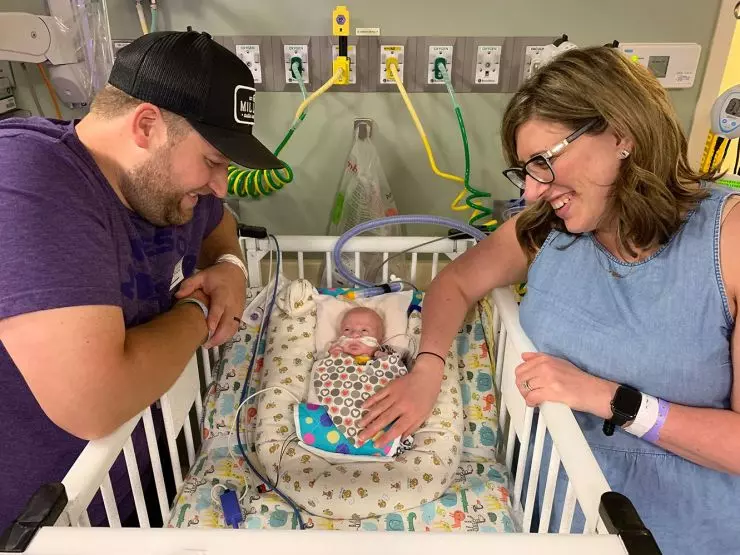 After 113 days our son was discharged from the NICU! He came home on oxygen, and 1.5 months after being home he came off oxygen! He's our miracle baby. He fought hard to be here, and we are forever grateful for all the care we received from Maple Grove Hospital and the continued care from Northwest Family Clinics.
Our son is now 11 months old (8 months adjusted), weighs 14 pounds 12.5 ounces, attends a home daycare full time and is eating purees and transitioning to more chewable foods. He can sit up on his own, is working on crawling, sleeps throughout the night and is talking (blabbing) up a storm. He is the happiest, most cuddly baby ever! He is reaching and exceeding his milestones every day. He's the strongest little boy we have ever known! We are honored to be his parents and continuously talk about how lucky we are. We are so fortunate that we have had such a positive outcome!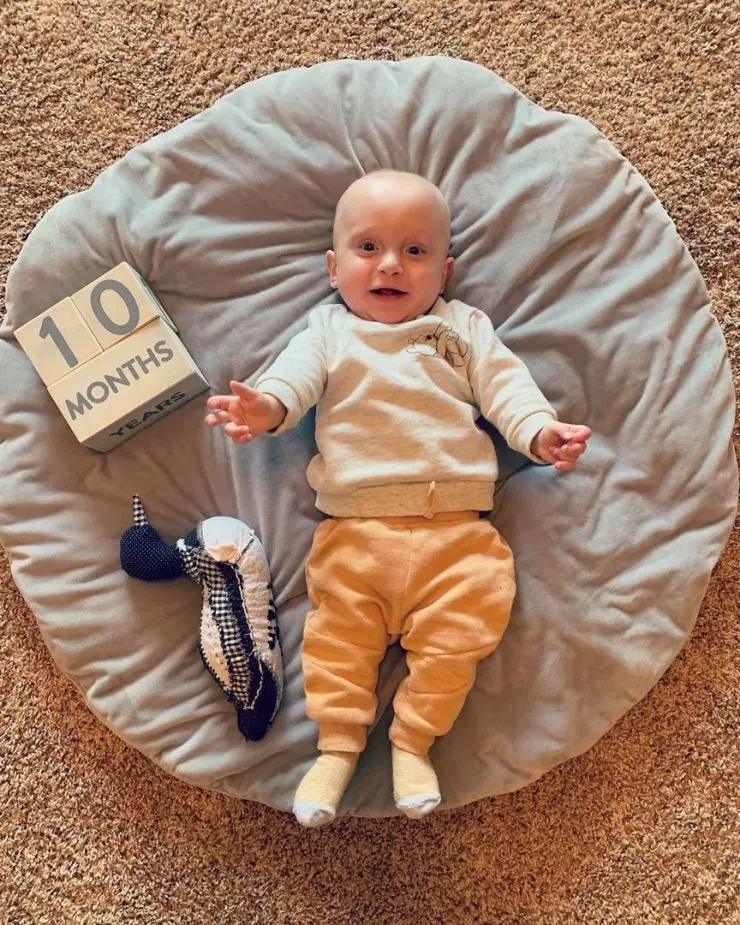 I now have a one-in-five chance of developing HELLP Syndrome and Preeclampsia again if I were to ever get pregnant. After my c-section at my one-week appointment with Dr. Purifoy she informed me of how unusual it is to be diagnosed with HELLP / pre-eclampsia at 25 weeks pregnant and that my case was extremely rare. Usually there are indicators of pre-eclampsia first and then pre-eclampsia can turn into HELLP in rare cases. In my case, I didn't have any indicators of pre-eclampsia, and HELLP syndrome came on very fast within 72 hours of my 24-week appointment when everything was within normal range.  
I learned so much from this experience. I learned to listen to my body and don't be afraid to ask questions, call or go into the doctor/hospital if you don't feel right. Only you know how you feel. Every pregnancy is different. Our experience with HELLP syndrome, pre-eclampsia and a lengthy NICU stay was by far the hardest thing we have ever been through. We survived it, and it made us stronger. I am so thankful I listened to my body that Sunday morning and went in, because it literally saved me and my son's lives. We celebrate our son's health and happiness every day!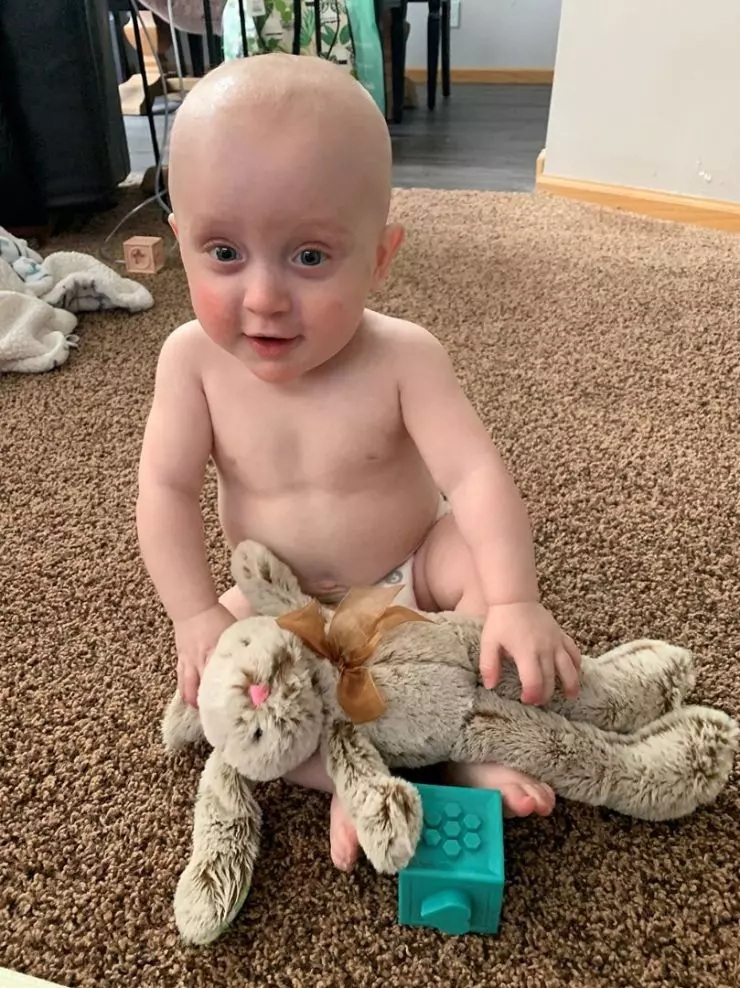 ---